CRM The heart of your company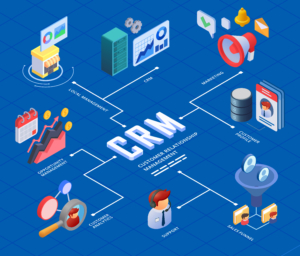 Adopting a CRM solution for managing sales and customer management processes is today the necessary investment for
improve customer satisfaction and the relationship with customers and prospects and improve sales performance.
The CRM facilitates the life of managers and company managers, as it allows to standardize business processes and allows for
keep track of activities and interactions with potential customers, which simplifies the manager's reading of what is happening, allowing comparison and therefore improvement.
What is CRM?
It is a technology tool that helps companies manage and analyze customer interactions and data throughout the customer lifecycle. It is designed to streamline and automate many aspects of customer relationship management, including sales, marketing, and customer service.
The main areas of management:
– Contact management
– Management of sales processes
– Automation of marketing and communication processes
– Taking charge and managing customer support and assistance services
– Data analysis and statistics/reports
What we propose
B-CRM is the software solution that we offer in SaaS mode. Its core includes the typical components of a CRM e the typical components of a document manager.
It allows you to effectively manage all stages of the sales and after-sales process.
The different modules available include: prospect management, customer management, contact management, workflow management, product/service and warehouse monitoring service, customer assistance, reports and dashboards.
It is also equipped with tools to support the management of activities on its customers (E-Mail manager, SMS, Customer Portal, etc).
The system can be used by numerous users simultaneously, who can be organized hierarchically through roles, profiles and groups.